Published: 05 April 2013

05 April 2013
Wind Turbines, Energy Containers and Microgrids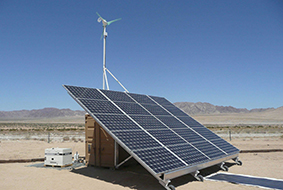 An energy container is a mobile hybrid power supply system built into a container. Much of the past use and development of energy containers has been for military purposes, but they can also be used for civilian purposes, for example in remote areas as the energy supply of base stations (cells) for mobile telephony or to provide the energy needs of remote villages. Basically, an energy container is a container equipped with solar panels, a wind generator, a diesel generator, batteries and an energy management system, although these can be arranged in a number of different configurations. In this article Frits Ogg presents an overview of the capabilities, market and applications of energy containers, with particular emphasis on the role of the wind turbines to be found within them.
By Frits Ogg, Renewable Energy Consultant, The Netherlands
Want to read full articles? Sign up free of charge and login and read the full text of published articles on our website.