Published: 30 September 2015

30 September 2015
A Few Potential Design Alternatives and System-level Reassessment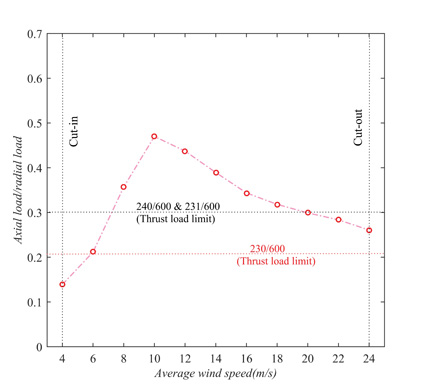 In recent years, increasing evidence of failures has been reported from spherical roller main bearings used in three-point mounting (TPM) drivetrains of wind turbines. One of the leading causes has been micropitting, a failure mode that is possibly overlooked by design, selection and life-prediction tools. It remains to be seen if retrofitting problematic spherical roller bearings (SRBs) with improved bearing design solutions can improve their durability. Questions to ask might be: 'Are the operating conditions of the main bearing well understood?' and 'Are the failures caused by deficient design practice or other unidentified external sources within the system?' These questions fundamentally challenge the underlying design basis and encourage the need for a system analysis approach that is currently being undertaken by researchers from the National Renewable Energy Laboratory (NREL). Specifically, this article discusses a few potential design alternatives and system-level reassessment to circumvent micropitting in main bearings used in TPM drivetrains.
By Latha Sethuraman, Yi Guo and Shuangwen Sheng, National Wind Technology Center, National Renewable Energy Laboratory, USA
Want to read full articles? Sign up free of charge and login and read the full text of published articles on our website.