Published: 19 July 2023

19 July 2023
An Open Tool and Community to Support Earth Decarbonisation
To meet decarbonisation targets, large investments are needed and digital tools are essential to minimise costs for citizens. The open paradigm composed of open data and open-source tools has the potential to break down costs and improve transparent decision-making. In this article, we describe how the open research initiative PyPSA meets Earth is creating a worldwide community that welcomes anybody contributing towards open tools, like PyPSA-Earth, to support the energy transition.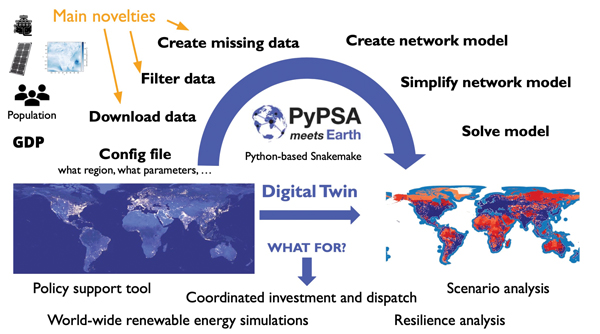 In particular, we describe how the PyPSA-Earth modelling tool is able to identify the least-cost energy mix for the energy system of any country in the world, while meeting environmental targets. A case study of Saudi Arabia shows that PyPSA-Earth could help the country achieve its Vision 2030 goals, reducing emissions by 50% and transitioning away from fossil-fuel-based generation methods. This proves that open energy modelling is state-of-the-art with strong applications in industry and policy decision-making.
By Dhruv Suri, Davide Fioriti, Maximilian Parzen, Stuart Daniel James, Ekaterina Fedotova
Want to read full articles? Sign up free of charge and login and read the full text of published articles on our website.