Articles
Published: 02 July 2009

02 July 2009
Co-Existence Between Radars and Turbines Offshore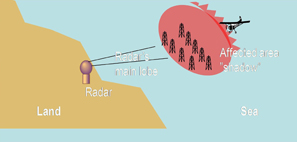 In Sweden the Swedish Armed Forces take every wind power project under consideration, and give their opinion about it. In particular, planned offshore wind power plants present some significant challenges. How can co-existence between radars and wind power plants be ensured? One significant problem is the radar shadow behind the turbines. The turbines can 'conceal' a target that otherwise should have been detected by the radar. One can illustrate the situation by shining a light on an obstacle. There will be a shadow behind the obstacle. Flight tests have been carried out to investigate the reality of the shadow effect, and a study has been done to find possible solutions that will enable radars and wind turbines to co-exist safely.
By Kjell-Åke Eriksson, Swedish Defence Materiel Administration (FMV), Sweden .

Want to read full articles? Sign up free of charge and login and read the full text of published articles on our website.