Published: 02 July 2009

02 July 2009
Invention Changes the World Wind Map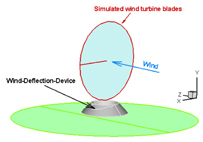 At a time when an improvement in efficiency from a large wind turbine of 1–2% is highly significant, a new company called Leviathan Energy has demonstrated that it can improve the power output of large wind turbines by over 40%, and at times of slow wind by over 100%.
By Dr Daniel Farb, CEO, Leviathan Energy, Inc, USA .
Want to read full articles? Sign up free of charge and login and read the full text of published articles on our website.
Related Articles
Leviathan Energy has announced that it has successfully completed the testing of its Wind Energizer and has begun the process of vetting prospective customers. Leviathan's Wind Energizer is a passive ...Windtech International - Windtech International is the worldwide information magazine for the wind energy industry. It provides the ideal forum for the promotion and explanation of new products, techniques and applications. This trusted and well-respected source of information is read regularly by an increasing readership