Articles
Published: 03 September 2009

03 September 2009
Dynamic Load Simulation of Multi-Megawatt Wind Turbine Gearboxes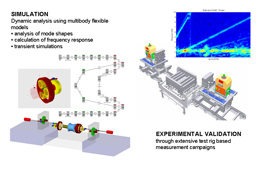 Today's wind turbine market, characterised by continuous up-scaling into the multi-megawatt class, is calling for reliability as the number one requirement. Cascading down this requirement to each component manufacturer in the supply chain, the gearbox manufacturer's challenge is to deliver a drive system, at a high quality level, that will operate in a highly dynamic environment. Reliable drive train design requires good understanding of the gear unit and its dynamic behaviour, particularly in the operational conditions experienced in a wind turbine. Component design, based on mechanical design loads in combination with (partial) safety factors, as described in current industry standards is not (yet) covering all requirements. There is further room for improvement based on validated and advanced simulation methods that can support the gearbox designer in developing a reliable drive system tailored to the wind turbine manufacturer's current and future needs.
By Sonja Goris, Hansen Transmissions, Belgium .

Want to read full articles? Sign up free of charge and login and read the full text of published articles on our website.