Published: 07 July 2017

07 July 2017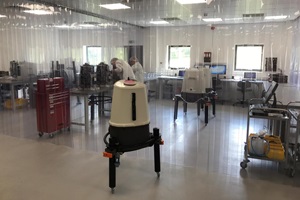 ZephIR Lidar, wind lidar manufacturer, has confirmed that the UK Wind Lidar Production Centre will officially open by the end of 2017. The Centre is complete with electronics and optical assembly clean rooms for producing, testing and servicing laser-based lidar units.
The redeveloped site near Ledbury also features new research and development studios and is part of a wider complex that includes the first Remote Sensing Test Site in the UK at Pershore. The Centre will cater for existing ZephIR models, future products and creates a step change in manufacturing capacity. ZephIR Lidar has further invested heavily in its UK based supply chain.
Related Articles
The SeaRoc Group has completed a maintenance visit to the two Forewind meteorological masts, installed at the Dogger Bank offshore wind farm site in 2013.

The University of Malta has successfully brought wind lidar technology to the country, with funding from an EU Project. The wind lidar, ZephIR 300, will be util