Published: 10 May 2022

10 May 2022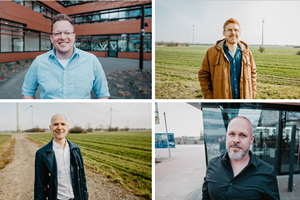 In addition to the classic operations management business, wpd windmanager is expanding its range of electrical engineering solutions and services for wind and PV plants, substations and transfer stations.
Just recently wpd windmanager had acquired Oltec Service and Deutsche Windtechnik Umspannwerke. As of 01 April 2022, the long-standing managing director Nils Brümmer takes over the newly structured division wpd windmanager technik and manages it together with Oliver Klausch, Torsten Stoll and Frank Lorenzen. Managing director Carsten Meyer is now focusing fully on his electricity marketing duties, while managing director Delia Richter is taking early retirement.
In the future Axel Stelzer, Joachim Elsterkamp, Henning Rüpke and Till Schorer will drive the further development of wpd windmanager. Axel Stelzer receives the overall responsibility of the technical management. The commercial management is headed by Joachim Elsterkamp. Key account management, sales and marketing & PR will be bundled under Till Schorer. And Henning Rüpke continues to be responsible for international business and from now on also takes over the areas of Human resources and quality management.