Published: 21 September 2022

21 September 2022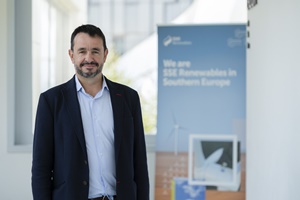 SSE Renewables has appointed Ángel Hernández del Teso as Director of Development and Construction for Southern Europe. The appointment comes after SSE Renewables acquired a portfolio of around 5.2GW in renewable energy projects in Spain, France, Italy and Greece from Siemens Gamesa Renewable Energy (SGRE) on
1 September
. SSE Renewables is also announcing that it has established its Southern European headquarters in the Basque Country city of Bilbao.
In his new role at SSE Renewables, Mr. Hernández del Teso will be responsible for securing a growing foothold in continental Europe through the gradual development, construction and commissioning of the newly-acquired 5.2GW portfolio of projects across Spain, France, Italy and Greece. Ángel Hernández del Teso will oversee a 50-strong development team of experienced professionals who previously worked on the development of the portfolio at SGRE and have been fully integrated into the SSE Renewables workforce.
Ángel Hernández del Teso has had a career in private infrastructure investment, working on projects in Europe, America, and Africa and holding positions of responsibility in feasibility analysis, project assessment and financing, and concession deployment. He was with Siemens Gamesa for 11 years, as Director of Gamesa Energía and Wind Farms Solutions Director. Prior to that, he was held a number of roles including Investment Director at N+1 Eolia (N+1 Group), strategic consultant at McKinsey & Company, and several roles in infrastructure investments in Ferrovial Group (CINTRA) and OHL Group (Ohl Concesiones).