Published: 07 March 2017

07 March 2017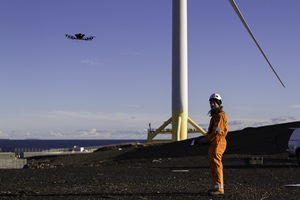 SgurrEnergy has introduced unmanned aerial vehicles (UAVs) to its existing inspection service offering after obtaining the Civil Aviation Authority's Permission for Aerial Work.
The UAVs are equipped with a variety of camera options to provide an accurate detailed assessment of an asset's condition. Operations and maintenance inspections on wind turbine generators (WTGs) can be carried out up to four times faster than traditional rope access methods. The safety risk to inspection personnel is also significantly reduced. SgurrEnergy's software can analyse the drone-captured inspection data and convert it into asset information for clients.
Related Articles
SgurrEnergy will use its experience to advise clients on reducing uncertainty and increasing transparency in their renewable energy projects.   Grouped into four key areas of risk management, this new ...Windtech International - Windtech International is the worldwide information magazine for the wind energy industry. It provides the ideal forum for the promotion and explanation of new products, techniques and applications. This trusted and well-respected source of information is read regularly by an increasing readership