Published: 09 July 2020

09 July 2020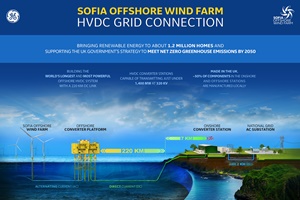 RWE has announced the appointment of Sembcorp Marine and GE's Grid Solutions as the Preferred Supplier of the high-voltage direct current (HVDC) electrical transmission system for the 1.4GW Sofia Offshore Wind Farm, located on Dogger Bank in the UK North Sea.
GE's Grid Solutions will be responsible for the engineering, procurement, construction and installation of two HVDC converter stations capable of transmitting 1,400MW of power at 320 kilovolts (kV). The offshore converter platform will be built and installed by Sembcorp Marine. At the heart of the wind farm, it will comprise a 10,000 tonnes topside attached to a jacket foundation piled into the seabed. The onshore converter station will convert the electricity generated by the wind farm to 400 kV, before it enters the national grid.
GE's Grid Solutions and Sembcorp Marine are starting early design works in July, with the full contract subject to the project's final investment decision, due in the first quarter of 2021. Construction of the wind farm is due to begin onshore at its Teesside converter station site early next year, with offshore construction expected to get underway in 2023.