Published: 27 February 2017

27 February 2017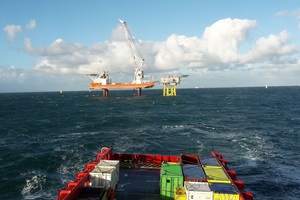 Rhenus Offshore Logistics is starting up its operation of two new offshore supply bases at the ports of Great Yarmouth and Aberdeen. The new sites are maintained through cooperation with local partners and realised through the recently opened UK office of Rhenus Offshore Logistics.
Rhenus Offshore Logistics entered the UK market in 2016 by opening its own representation in Lowestoft, near Great Yarmouth on the Eastern coast of Suffolk. The supply bases provide storage, cargo handling, offshore-certified container handling and provision, quayside management, stevedoring and all supply chain activities. The concept of the new supply bases is to provide a foundation from which Rhenus is then able to support and offer a comprehensive logistical package with the core concept being cargo runs, supplying offshore assets with whatever is required to keep them functioning.