Published: 06 February 2023

06 February 2023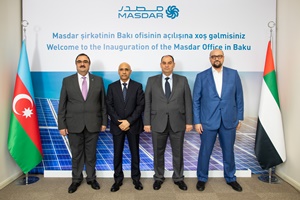 Masdar continues to support Azerbaijan's renewable energy development with the opening of an office in Baku, the capital city. Masdar will work closely with the government and other stakeholders in Azerbaijan to accelerate the growth of its renewable energy sector.
Recently, Masdar signed joint development agreements for onshore wind and solar projects, and integrated offshore wind and green hydrogen projects, with a total combined capacity of 4GW. The projects are part of a larger agreement with Azerbaijan's Ministry of Energy to develop a renewable energy program on a bilateral basis, with a total capacity of 10GW across multiple technologies.