Published: 06 September 2021

06 September 2021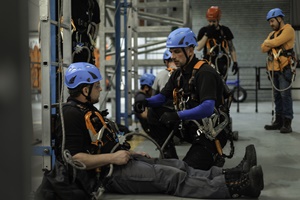 Maersk Training UK (MTUK) has launched its newly refurbished, safety and survival centre in Newcastle. The training centre will be accredited by the Global Wind Organisation (GWO).
Offering all five modules of the GWO Basic Safety Training (BST) and the GWO Basic Safety Training Refresher (BSTR), MTUK has a bespoke hub rescue facility, which provides practical training for those required to access the hub and yaw sections of wind turbine generators (WTG) and how to rescue a casualty from these areas. The advanced rescue, utilising Open Water GWO Sea Survival courses, provides a realistic as possible experience for delegates. MTUK has also invested in e-learning courses and has increased its digital offering. This includes the upgrade of its Training Management Service (TMS), which allows MTUK to offer an effective and safer solution for delegate training.