Published: 17 January 2018

17 January 2018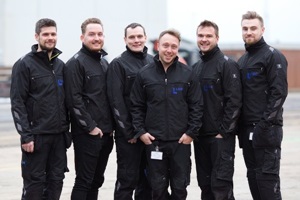 Due to new and increased activities at LORC, initiated by the new HALT Test facility, that was inaugurated 30 November last year, and full activity at the existing Function Test facility, LORC has added 6 new test engineers to the LORC test team.
LORC welcomes Claus Mose Mathiesen, Lasse Kristensen, Thomas Karlsen, Nicolai Ravn, Frederik Nissen and Jacob Lillevang, who gained experience at companies like MHI Vestas, Energinet, Maersk and Falck Schmidt. They all have a set of skills that are tailored to the needs of LORC i.e. hydraulics, cooling, PLC, SCADA, documentation, risk analysis, service, maintenance, surveillance and HSE amongst others.
Related Articles
Together with industry partner FORCE Technology, LORC is setting up a centre to test components and substructures for the offshore wind industry.   In the initial phase, LORC Component & Substructure ...Windtech International - Windtech International is the worldwide information magazine for the wind energy industry. It provides the ideal forum for the promotion and explanation of new products, techniques and applications. This trusted and well-respected source of information is read regularly by an increasing readership

GE's Power Conversion business has signed a turnkey contract with the Lindoe Offshore Renewables Center (LORC), a Danish center for testing renewable energy technology, for the construction, commissio ...Windtech International - Windtech International is the worldwide information magazine for the wind energy industry. It provides the ideal forum for the promotion and explanation of new products, techniques and applications. This trusted and well-respected source of information is read regularly by an increasing readership

Siemens has delivered high-voltage direct-current (HVDC) technology that allowed Red Eléctrica de España (REE) to link Mallorca with the Spanish mainland via an electricity highway laid in the Mediter ...Windtech International - Windtech International is the worldwide information magazine for the wind energy industry. It provides the ideal forum for the promotion and explanation of new products, techniques and applications. This trusted and well-respected source of information is read regularly by an increasing readership

The HVS (High Variable System) connector system from Tyco Electronics is now available with color-coded backshells, with eight standard colors and custom colors additionally available. The color cod ...Windtech International - Windtech International is the worldwide information magazine for the wind energy industry. It provides the ideal forum for the promotion and explanation of new products, techniques and applications. This trusted and well-respected source of information is read regularly by an increasing readership