Published: 07 April 2021

07 April 2021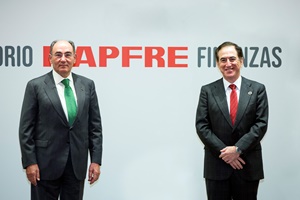 Iberdrola and Mapre have created a new strategic alliance to make joint investments in renewable energies in Spain. The utility and the insurance company have set up a co-investment vehicle to achieve their goals that includes 230MW of green projects, both wind and solar photovoltaic (PV), from the utility's portfolio.
The agreement foresees adding more operating assets over time, as well as new renewable projects under development from the energy company's pipeline, targeting 1,000MW. Mapfre is the majority shareholder in the vehicle with an 80% stake, while Iberdrola holds the remaining 20% and is responsible for developing, building and operating the wind farms. The first 100 MW of operational assets, located in Castilla y León, are split between two wind farms in Soria and Burgos. The 130MW PV projects are being developed in Castilla-La Mancha, in the province of Guadalajara, and are expected to be commissioned in the third quarter of 2022.