Published: 09 February 2016

09 February 2016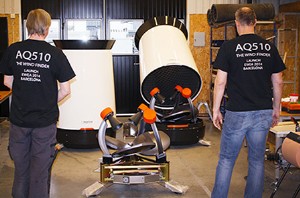 anemos-jacob GmbH, based in Oldershausen, Germany have decided to upgrade their fleet of eleven AQ500 SoDARS to AQ510 specification.
The AQ510, manufactured by AQSystem of Sweden, uses the latest technologies to provide the higher levels of accuracy and data availability demanded by today's wind industry, particularly in Germany where new wind turbine hub heights are rarely less than 140 metres. For seven years anemos-jacob have been a partner for AQSystem offering rentals, sales and other services for AQ500 and now for the AQ510.
Related Articles
Ammonit Measurement GmbH and AQSystem have signed a global distribution agreement for the sodar products from AQSystem including the new AQ510 windfinder.   This new partnership fits well in AQSystems ...Windtech International - Windtech International is the worldwide information magazine for the wind energy industry. It provides the ideal forum for the promotion and explanation of new products, techniques and applications. This trusted and well-respected source of information is read regularly by an increasing readership

ZephIR Lidar has released remote sensing test results against an IEC compliant met mast spanning almost 80 trials over a two year period. All ZephIR 300's were validated against an IEC compliant 91m m ...Windtech International - Windtech International is the worldwide information magazine for the wind energy industry. It provides the ideal forum for the promotion and explanation of new products, techniques and applications. This trusted and well-respected source of information is read regularly by an increasing readership

Remtech has introduced its new PA4 Sodar which fills a gap between their PA0 Sodar (700 meters average altitude range) and their PA5 Sodar (3,000 meters average altitude range). With 2,000 meters av ...Windtech International - Windtech International is the worldwide information magazine for the wind energy industry. It provides the ideal forum for the promotion and explanation of new products, techniques and applications. This trusted and well-respected source of information is read regularly by an increasing readership

Sodar-Based Wind Sensors have a Role in Power Curve CalculationsAs remote sensing systems like sodar and lidar become more widely used in the wind energy industry, their value in applications througho ...Windtech International - Windtech International is the worldwide information magazine for the wind energy industry. It provides the ideal forum for the promotion and explanation of new products, techniques and applications. This trusted and well-respected source of information is read regularly by an increasing readership

DNV has published a new Recommended Practice (RP) document that provides the wind power industry with knowledge about the use of remote sensing technology for characterizing wind resources. The docu ...Windtech International - Windtech International is the worldwide information magazine for the wind energy industry. It provides the ideal forum for the promotion and explanation of new products, techniques and applications. This trusted and well-respected source of information is read regularly by an increasing readership

Second Wind Systems has supplied the Naval Facilities Engineering Command (NAVFAC) with a Triton SoDAR instrument for a wind resource measurement campaign at Camp Lemonnier in Djibouti, Africa. In a ...Windtech International - Windtech International is the worldwide information magazine for the wind energy industry. It provides the ideal forum for the promotion and explanation of new products, techniques and applications. This trusted and well-respected source of information is read regularly by an increasing readership

Apex Wind Energy (Apex) and Second Wind have announced the commencement of a multi-month wind farm optimization (WFO) campaign using two Triton SoDAR systems at a utility scale wind project under deve ...Windtech International - Windtech International is the worldwide information magazine for the wind energy industry. It provides the ideal forum for the promotion and explanation of new products, techniques and applications. This trusted and well-respected source of information is read regularly by an increasing readership

Atmospheric Systems Corporation (ASC) has annouced that it has entered into a research collaboration with Wind Measurement Technologies (WMT), a division of Auckland UniServices Limited (UniServices) ...Windtech International - Windtech International is the worldwide information magazine for the wind energy industry. It provides the ideal forum for the promotion and explanation of new products, techniques and applications. This trusted and well-respected source of information is read regularly by an increasing readership

Characterising Wind Speed and Directional Shear with sodar Data Remote sensing technology, such as Sonic Detection and Ranging (sodar), has made it practical to obtain accurate measurements of wind s ...Windtech International - Windtech International is the worldwide information magazine for the wind energy industry. It provides the ideal forum for the promotion and explanation of new products, techniques and applications. This trusted and well-respected source of information is read regularly by an increasing readership

An Analysis of Data from the Triton Sonic Wind Profiler The met mast is dead. Long live sodar! While it is early to make this statement emphatically, data from field tests indicates that a new genera ...Windtech International - Windtech International is the worldwide information magazine for the wind energy industry. It provides the ideal forum for the promotion and explanation of new products, techniques and applications. This trusted and well-respected source of information is read regularly by an increasing readership

The first Triton sonic wind profiler is being shipped today, and more than 15 additional units will ship to customers over the next two months.

Second Wind Inc. will open a new manufacturing facility on in Somerville, MA, USA to support the recent launch of its Triton sonic wind profiler. Second Wind's sonic wind profiler is a wind resourc ...Windtech International - Windtech International is the worldwide information magazine for the wind energy industry. It provides the ideal forum for the promotion and explanation of new products, techniques and applications. This trusted and well-respected source of information is read regularly by an increasing readership

Rethinking Sodar for Wind Site Profiling Accurate assessment of the resource at potential wind-energy sites is becoming more critical. The 60m met towers most commonly used for site assessment are d ...Windtech International - Windtech International is the worldwide information magazine for the wind energy industry. It provides the ideal forum for the promotion and explanation of new products, techniques and applications. This trusted and well-respected source of information is read regularly by an increasing readership

Remote Sensing for Wind Resource Measurement The wind industry, to date, has largely studied wind patterns and turbine performance using traditional fixed masts; these raise issues such as the need f ...Windtech International - Windtech International is the worldwide information magazine for the wind energy industry. It provides the ideal forum for the promotion and explanation of new products, techniques and applications. This trusted and well-respected source of information is read regularly by an increasing readership

Harnessing a Tried and Tested Novel Technology Remote sensing methods such as sodar and laser anemometry (lidar) offer a means of obtaining accurate wind profiles for wind resource assessment, and hen ...Windtech International - Windtech International is the worldwide information magazine for the wind energy industry. It provides the ideal forum for the promotion and explanation of new products, techniques and applications. This trusted and well-respected source of information is read regularly by an increasing readership