Published: 12 December 2022

12 December 2022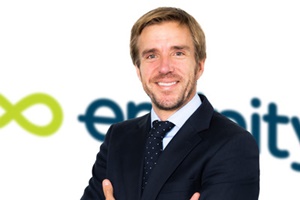 Enfinity Global has announced the appointment of Julio Fournier Fisas as Chief Growth Officer to accelerate the company's execution across various strategies, including storage and the commercialisation of energy.
Before joining Enfinity Global, Julio served as Global Vice President and General Manager for EMEA at Canadian Solar. Previously, he was Head of Business Development, Engineering and Construction at GPG (Naturgy + Wrenhouse – KIO). In 2014, he joined TerraForm Power as Director for Latin America, where he led M&A in the region and actively participated in two IPO processes. From 2011 to 2014, Julio was instrumental in SunEdison´s expansion in Latin America, where he was responsible for project development and M&A, laying the foundation for the development of the utility scale photovoltaic sector across the region. Julio holds a degree in Business Administration and a degree in Law from Pompeu Fabra University and completed postgraduate studies in Financing and Investment in Renewable Energies at the IEB (Instituto de Estudios Bursátiles) and in Leading Strategic Growth at Columbia Business School.