Published: 25 March 2021

25 March 2021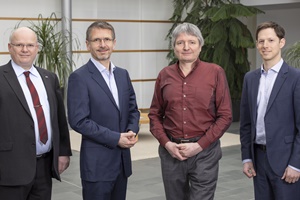 The Supervisory Board of Enertrag has decided to expand the former three-member Executive Board and appointed the former head of the finance department, Simon Hagedorn (36), as CFO.
The business economist will be responsible for the newly created Executive Board Department of Financing, Mergers and Acquisitions, Commercial Management and Accounting from 1th of April 2021. The expansion of the Executive Board is also accompanied by a reorganisation of responsibilities. Gunar Hering, PhD, will take over the responsibility for Human Resources and Legal Affairs in addition to Project Development. Matthias König will remain responsible for Construction, Operations, Purchasing and Electricity Grids. CEO Jörg Müller will increasingly devote his time to Digitalisation as well as Organisational Development and political support for the advancing energy transition.
Related Articles
Senvion has concluded four contracts with Enertrag for supply and installation of 27 wind turbines with a total rated output of 54.45MW for four wind farms in France.   Senvion will provide the full m ...Windtech International - Windtech International is the worldwide information magazine for the wind energy industry. It provides the ideal forum for the promotion and explanation of new products, techniques and applications. This trusted and well-respected source of information is read regularly by an increasing readership

Nordex received orders from three customers for new wind farms comprising a total of 15 N100/2500 and N117/2400 wind turbines.   In summer 2014, Nordex will be installing eight N100/2500 turbines at t ...Windtech International - Windtech International is the worldwide information magazine for the wind energy industry. It provides the ideal forum for the promotion and explanation of new products, techniques and applications. This trusted and well-respected source of information is read regularly by an increasing readership