Published: 26 January 2021

26 January 2021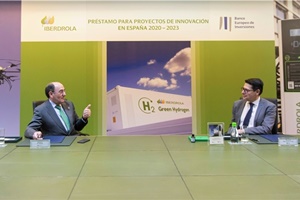 The European Investment Bank (EIB) has signed a financing agreement for € 100 million with Iberdrola to support the company's innovation, research and development strategy between 2021 and 2023.
The funds obtained will promote the development of innovative and sustainable technologies, aligned with the energy transition, decarbonisation and electrification of the economy. This will include R&D in renewables, the production of green hydrogen and the development of floating wind and photovoltaic installations. It will also include the integration of clean energy into the system, through pumped hydroelectric plants and batteries. Iberdrola will also develop new solutions for customers, promoting energy efficiency and a more personalised service, as well as enhancing electric mobility. In this area, it will seek to enhance digitalisation, automation and cybersecurity.