Published: 16 February 2016

16 February 2016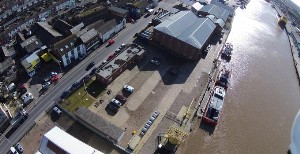 Dalby and The Gardline Group have joined forces to create a new joint venture company, Trinity Marine Services which will be based around the Trinity Quay facilities in the port of Great Yarmouth.
The site will be primarily for the service of the emerging East Anglia offshore renewables Industry and has dedicated office facilities, warehousing, office space, 60 seat conference room, dedicated training facilities, serviced accommodation and workshops. Trinity Marine Services are currently upgrading the property in respect of fuelling, additional pontoons to over 100m across the quay space and new craneage.
Related Articles
The Lake Erie Energy Development Corporation (LEEDCo) began a comprehensive geotechnical investigation of the soils under Lake Erie today where they plan to ins

Iberdrola has awarded two contracts, worth €18 million, to British company Gardline Group and GEO of Denmark. The companies will conduct a full geological survey of the Baltic Sea area where the Wik ...Windtech International - Windtech International is the worldwide information magazine for the wind energy industry. It provides the ideal forum for the promotion and explanation of new products, techniques and applications. This trusted and well-respected source of information is read regularly by an increasing readership