Published: 17 February 2016

17 February 2016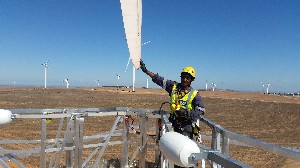 Altitec, a rope access blade repair and inspection company, has signed a five-year joint venture agreement with Obelisk, a provider of infrastructure services to the global renewable energy, telecommunications and power markets.
The deal enables the two businesses to deliver a range of wind turbine blade and tower services to wind farm owners, operators and original equipment manufacturers (OEM's) operating in the South African market. The South African wind energy market has grown rapidly in recent years with 15 new wind farms totaling 1,200MW constructed in the last 3 years. The South African government has already committed to procuring energy from another 19 wind farms totaling 2,000MW. As part of the joint venture agreement, Altitec is working alongside Obelisk to provide a range of regionally specific blade and tower services, while also training new South African rope access technicians to international standards.
Related Articles
Irish wind energy company, Airsynergy, has announced Cavan-based Obelisk Group as the exclusive Licensee of its sub-10kW turbine products throughout Ireland and the UK.   This deal will see Obelisk ha ...Windtech International - Windtech International is the worldwide information magazine for the wind energy industry. It provides the ideal forum for the promotion and explanation of new products, techniques and applications. This trusted and well-respected source of information is read regularly by an increasing readership