Published: 06 April 2023

06 April 2023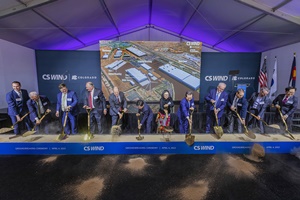 Construction is underway for the expansion of CS Wind's manufacturing plant for wind turbine towers, a project designed to double production and lead to the hiring of at least 850 new employees.
The first phase of the new facility is expected to be complete by summer 2024 with phases two and three expected to be complete by 2028. When the expansion is complete, CS Wind's total footprint will be more than 850,000 square feet. The manufacturing plant operates 24 hours per day, seven days per week. Additional investment in the facility was made possible by the Inflation Reduction Act of 2022 (IRA), which includes tax incentives for clean energy projects.