Published: 03 September 2009

03 September 2009
Professional Customers Require Professional Suppliers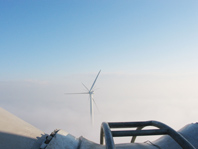 For more than three decades, the Wind Energy unit of ECN (Energy research Centre of the Netherlands) has been one of the leading wind energy research institutes in Europe. Its main focus has been on long-term research, which has been mainly funded by the Dutch government and the European Union. With the growth of the wind industry, especially during the last five years, ECN Wind Energy has been approached more and more often to assist the wind industry in their developments. Wind turbine developers used ECN's knowledge to develop their rotor blades and analyse the mechanical loads, while project developers used the unit's knowledge of wind farm layout, stability of the electrical grid, and the development of an adequate strategy for operating and maintaining offshore wind farms. To minimise the interruption of the long-term R&D projects, and to better react to industry enquiries, ECN Wind Energy established the EWIS group (ECN Wind Industrial Support) in 2009.
By Luc Rademakers, Head of EWIS Group, ECN Wind Energy, the Netherlands .

Want to read full articles? Sign up free of charge and login and read the full text of published articles on our website.