Published: 02 July 2009

02 July 2009
Ensuring the Quality of Wind Turbine Parts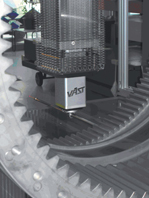 In the fast-growing market for wind power systems, quality assurance according to international industrial standards has become an important issue. Wind power plants are no longer a niche playground for 'environmental freaks'. It's a serious business where cost efficiency, life cycle costs, reliability and availability of the components must be considered. Coordinate measuring machines play a vital role in ensuring the accuracy and quality of components. This article describes how Carl Zeiss Industrielle Messtechnik has developed its series of MMZ machine measuring centres, which are tailored for the precise, economical measuring of large parts directly in the production environment, and in particular looks at the MMZ G, which has found application in quality assurance for gearboxes and other parts for large wind turbines.
By Hannes Daniel and Jürgen Dussling, Carl Zeiss Industrielle Messtechnik, Germany .

Want to read full articles? Sign up free of charge and login and read the full text of published articles on our website.