Published: 12 June 2019

12 June 2019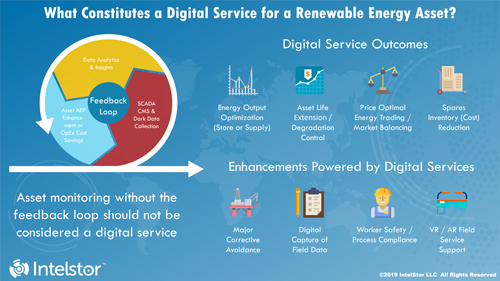 The contribution of digital services to operations and maintenance (opex) cost savings, service revenue enhancement, asset life extension and additional power delivered to the grid in a price optimal fashion has so far fallen short of expectations in the five years since these solutions were first deployed.
By Philip Totaro, Founder and CEO, IntelStor, USA
Digital services utilise data analytics on SCADA, condition monitoring systems (CMSs) and other field data in order to provide the listed benefits by analysing the data and feeding back asset control recommendations to achieve the desired outcomes. In some cases, powered by artificial intelligence algorithms, automatically applying changes in the renewable energy asset controls could also achieve the desired outcomes.
Unfortunately, the renewable energy sector has not yet reached a consistent way of counting the gigawatts worth of assets which are subject to a digital service at this stage either. Many companies believe that remote monitoring of SCADA and CMS data, or even the simple addition of a data analytics layer on top of that collected data, constitutes a digital service being rendered. We have disagreed with that assessment, because in those cases the outcomes of the analytics are not being applied to the benefit of the assets.
Detecting potential annual energy production (AEP) shortcomings due to yaw errors, or devising a predictive maintenance strategy which enables asset life extension, without applying those outcomes to benefit the asset from which the analytics were derived should not be counted as a digital service being rendered.
For the purpose of our analysis, we have always counted the gigawatts subject to a digital service as those gigawatts which have the feedback loop of applying the outcomes of the data analytics to enable opex cost savings, service revenue enhancement, asset life extension, or additional power through selective uprating.
In accordance with that consistent definition, the industry remains on track to see a combined +116GW count of assets which benefit from a digital service according to these definitions. The Asia-Pacific region still dominates with 40.4GW, mainly thanks to China, followed by Europe at 36.9GW and North America at 29.8GW.
Wind energy leads the pack globally with a cumulative 67.4GW of assets globally receiving at least one digital service and solar 42.5GW. Energy storage lags at 6.4GW, but it is expected to continue its growth trajectory in the coming years.
In terms of results, the digital services which have been deployed on the +116GW worth of renewable energy assets in the world have so far fallen short of expectations.
On average, the additional AEP from selective power uprating has only resulted in approximately 2.4% additional power compared with the same average without the digital service being provided. This value is higher, at an average of 5.3%, on assets for which the pitch system and yaw system corrections were introduced to overcome miscalibration or misalignment at the time of commissioning. Nevertheless, these values are still well below the lofty 12–14% gains promised by some digital service companies.
The opportunity to reduce opex cost is almost completely missed at this stage due to a cost shift from reactive maintenance practices to predictive maintenance practices powered by data analytics. Money which would have otherwise been saved on administrative costs, a reduction in the inventory of spare parts, as well as the time in service for equipment and personnel is instead being spent on the digital service being provided to implement that reactive to predictive maintenance transition. As a result, there is no net opex cost reduction at this stage, only a cost shift towards the digitally enhanced services.
In the meantime, opex costs in wind energy alone have risen more than 28.6% over a 10-year period and appear poised to continue to rise. The inclusion of partial scope or even full wrap agreements on major component failures allows for additional revenue on some OEM provided services. While there is significant variation in these normalised costs due to labour rates and other factors, the current average cost for standard maintenance lies somewhere around US$31,500, while the average cost of a full wrap agreement can be approximately US$47,800.
The one benefit of a full wrap agreement for many OEMs who are providing that scope of service is that it currently offsets some of their margin losses on turbine sales. With services and aftermarket part sales revenues becoming increasingly important, this will help shape the future of the market when it comes to offering digital services and the benefits they can provide.
Many OEMs will utilise the long-term service agreement with partial scope or full wrap protection on all parts will be encouraged to use more data analytics and potentially feed those results back into an asset management platform to boost their margins.
The latest price trend for digital services has them costing between US$212 and US$646 per MW per month depending on the scope of the digital service being rendered. This indicates a positive upward trend for digital service providers, but costs for asset owners could see a net increase unless more benefits are derived from the scope of digital services.
The future appears to be getting brighter for digitalisation in renewable energy, but there are still some important steps which data analytics and digital service platform providers must take before a concrete net benefit is felt in the market.