Published: 27 August 2019

27 August 2019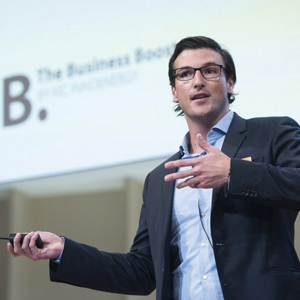 Over the past decade the energy sector has seen unprecedented moves towards consolidation with systematic mergers and acquisitions among utilities, original equipment manufacturers and Internet service providers. This is a natural market tendency when searching for economies of scale and pooling of resources especially in a market plagued by uncertainty. Operational excellence and economic leverage are the targets used to deliver improved performance that should ultimately translate into savings for the end user. However, there is an undeniable downside to this approach which hinders that very same goal. The industry is at a point where we should ask: will these market tenden­cies thwart innovation? Will it become a zero-sum game that can compromise the sector's goals and, more importantly, is there anything we can do about it?
By André Moura, Founder and CEO of Pro-Drone and an EIT InnoEnergy CommUnity Advisory Board Member
My professional path has been driven by a simple mandate: how can I best allocate my time and effort to contribute to the global energy transition? After six years of research and consultancy work, it became apparent that progress was slow: market adoption was sluggish, corporate structures were not agile at adopting new solutions, and positions of incumbency seemed to encourage a lack of urgency in promoting innovation. The optimal path was to start a company to address a specific problem within the sector and so Pro-Drone was born in 2015.
The underlying principle was that if we could have an impact on the levelised cost of energy, even at a fraction of a percentage, so could another 50 innovative companies and together we could make the sector more competitive. There are no silver bullets, it is more akin to the compound effect of many shotgun pellets.
The goal was to develop and implement an autonomous drone inspection solution for wind blades to deliver higher production, better data and, ultimately, to empower asset managers with better tools for decision-making. The solution includes data management and artificial intelligence leveraged analysis on our platform BladeInsight with the everlasting pursuit of delivering more value. The idea was that market forces would both promote and encourage the adoption of the solution.
Barely four years later, we are now present in over 10 countries with improving metrics and a growing global footprint. The initial assumptions were correct. It is critical that large players have mechanisms to be approachable and penetrable by smaller, faster, more agile suppliers that can deliver incremental value to their businesses. Unfortunately, it is well documented that scale and innovation do not go hand-in-hand and that it takes immense discipline and culture to make it work. Moreover, the focus on operational optimisation, consolidation and processes tends to be opposed to change and therefore may hinder innovation too.
This is the conundrum which the renewable energy sector is facing, and the industry will need to find intelligent ways to reach ultimate sustainability. Efforts to compound these opposing forces are visible through the multiple corporate-backed incubators, accelerators, venture arms and innovation awards. However, talking from my own experience, it is often the case that those who are successful innovators struggle to break into the market and become suppliers.
Ultimately for the sector to thrive it will need to come to terms with the opposed forces of innovation versus consolidation. Boards will have the complex task of conveying this message to their shareholders and, with their blessing, implement the framework throughout their structures. The barriers to entry should be at a high bar and yet penetrable so that the market opportunity is there to motivate and attract the ideas and talent that the sector needs. I hope that the sector's behemoths will find the right balancing act and that it will be more ballet than circus. After all, I believe that this is a necessary transformation on which the sustained implementation of the green economy is dependent.
Related Articles
AMSC has announced a series of strategic operational initiatives designed to better capitalize on emerging opportunities in the wind and grid businesses. These measures include consolidation of the co ...Windtech International - Windtech International is the worldwide information magazine for the wind energy industry. It provides the ideal forum for the promotion and explanation of new products, techniques and applications. This trusted and well-respected source of information is read regularly by an increasing readership

Everybody Expects It – But Are They Right?Consolidation within the wind sector has been much discussed over the past 12–18 months due to weakening demand and ongoing price pressure. However, with glob ...Windtech International - Windtech International is the worldwide information magazine for the wind energy industry. It provides the ideal forum for the promotion and explanation of new products, techniques and applications. This trusted and well-respected source of information is read regularly by an increasing readership

Totaro & Associates has released a new research note regarding the price pressure and overcapacity within the wind industry. Overall, what can be expected in the wind industry in the next two years ar ...Windtech International - Windtech International is the worldwide information magazine for the wind energy industry. It provides the ideal forum for the promotion and explanation of new products, techniques and applications. This trusted and well-respected source of information is read regularly by an increasing readership

Gamesa has reinforced its US organizational structure, having hired David Flitterman to preside its North American business. This executive will spearhead the consolidation of Gamesa's business acti ...Windtech International - Windtech International is the worldwide information magazine for the wind energy industry. It provides the ideal forum for the promotion and explanation of new products, techniques and applications. This trusted and well-respected source of information is read regularly by an increasing readership