Published: 12 August 2021

12 August 2021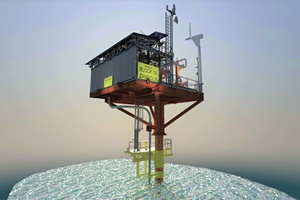 Aquaterra Energy has completed the engineering design for a renewable-powered Sea Swift offshore platform for DeNovo Energy. The offshore platform is part of the development activity for the Zandolie field, located in the Gulf of Paria, off the west coast of Trinidad and is scheduled to be installed in Q4 2021.
The unmanned minimum facilities platform will be installed in water depths of 20m and will tie back to the Iguana field. The Sea Swift offshore platform will be self-powered by a wind turbine and a solar bank. By using a dual energy resource, the design reduces intermittency risk and will include a battery to store excess power. The solution eliminates the need for traditional diesel generators for power, reducing emissions including those associated with the maintenance and logistics for refuelling visits to the platform. In addition, the platform will also be equipped with intelligent monitoring technology, which reduces maintenance trips by only requiring personnel to visit when alerted via onshore systems.