Published: 19 April 2017

19 April 2017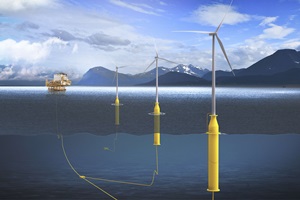 The DNV GL-led joint industry project, WIN WIN (WINd powered Water INjection), has completed its first phase and determined that wind power could be used to power offshore water injection. The project is currently moving into its second phase, which includes refining and testing the electrical systems, and investigating possibilities for broader applications.
The project consists of four partners: DNV GL, ExxonMobil and ENI Norge – all part of the first phase – and the Norwegian Research Council – a new participant for this second phase. The first phase of the project determined the concept is technically feasible, capable of meeting performance targets, and cost-competitive with conventional water injection solutions. The WIN WIN concept includes a floating wind turbine, which supplies power to a typical water injection process that includes pumping and basic water treatment. The second phase will focus on extensive physical lab testing of the electrical systems at the DNV GL power laboratories in Arnhem, the Netherlands. The next phase of WIN WIN will also help to further develop the economic feasibility of wind and potentially other renewables in complex environments with demanding functional requirements. The concept showcases alternative sources of energy and its reliability for off-grid situations.