Published: 14 June 2022

14 June 2022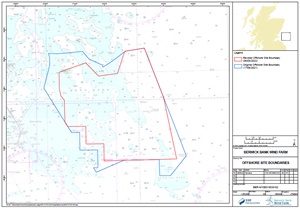 SSE Renewables has confirmed it plans to reduce the overall area for its proposed Berwick Bank Wind Farm by around 20 percent as it makes final preparations to submit the project to Scottish Ministers for planning consent. This is in addition to a previous reduction of 10 percent already made in Summer 2021.
The decision was made as part of the project's design process following stakeholder consultation, detailed ornithological studies and full environmental assessment which is nearing completion. Although the overall area that will form the basis of the consent application is to be reduced, the capacity of green electricity that will be generated by Berwick Bank will remain unchanged at 4.1GW. The change to the boundary is one of several measures being taken by the project to reduce potential effects on ornithology as well as benthic and shellfish ecology, fishing, shipping and navigation and represents the final step in the pre-consent design process. Updating the Environmental Impact Assessment to reflect the new boundary and taking requests made by Marine Scotland in the Scoping Opinion will result in the consent application being made in Q4 2022 rather than Q2 as anticipated.