Published: 06 April 2018

06 April 2018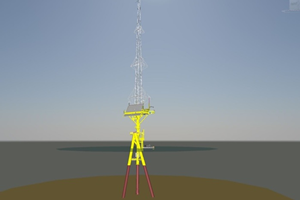 Keystone Engineering has designed a meteorological tower and supporting structure to be installed off the coast of Ocean City, Maryland, USA. The structure will support the instrumentation necessary to collect data for developer US Wind's planned commercial offshore wind project, which seeks to install 32 wind turbines at a distance of approximately 17 miles from the Ocean City shoreline.
Keystone engineers designed a braced-caisson foundation concept for the project, which will be the first of its kind along the US East Coast. The concept has been proven to provide additional stability in areas prone to hurricanes, and can be manufactured and installed using the existing US supply chain and US offshore contractors. Keystone also designed a boat fendering system that employs a side-step ladder to enhance worker safety for offshore access and egress. The braced-caisson is a forbearer of Keystone's own Inward Battered Guide Structure technology, which is commonly known as the 'Twisted Jacket' across the offshore wind industry. US Wind, Inc. plans to install the structure this summer.