Published: 14 December 2018

14 December 2018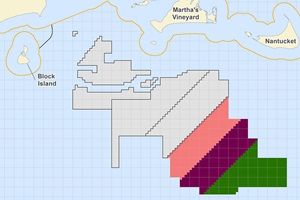 The Bureau of Ocean Energy Management has launched an auction, offering the right to develop offshore wind farms on three lease areas off the coast of Massachusetts spanning 390,000 acres.
Nineteen companies have been pre-qualified to participate in the bidding. The three lease areas being auctioned are located 19.8 nautical miles from Martha's Vineyard, 16.7 nautical miles from Nantucket, and 44.5 nautical miles from Block Island. If fully developed, the areas being offered could support approximately 4.1GW of commercial wind generation.