Published: 15 April 2016

15 April 2016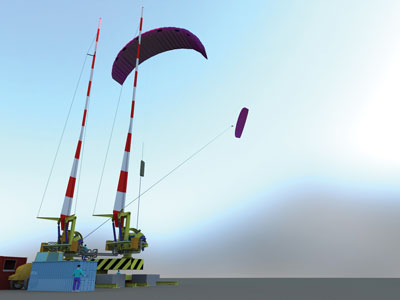 Natural Power has been appointed by Kite Power Solutions (KPS) to support proposals for consenting a test and development site at RAF West Freugh (now operated by QinetiQ), near Stranraer in Dumfries and Galloway, Scotland. Founded in 2011, KPS was established to develop a deep water wind energy technology that can be deployed anywhere in the world at a cost that is able to compete with the lowest cost fossil fuel energy systems.
KPS has already designed, built and demonstrated a 40kW proof of concept system, regularly flying at its current base, Bradwell-On-Sea Airfield in Essex. A 500kW pre-commercial demonstration system has also been designed. Once the company has secured the required GBP 5.5 million investment, the next phase of development will commence, and this includes relocation to the West Freugh site which already has 'controlled airspace' status, and will enable testing of the kites at heights up to 500 metres. By 2021 KPS intends to have its 500kW system available for commercial sale, and will have deployed a floating 3MW system. The West Freugh location was selected after extensive consultation with the Civil Aviation Authority. A rolling five year lease for the demonstration test site was signed in February 2016, with first kite system flying on the site expected in April 2017. Royal Dutch Shell and the UK's Department of Energy and Climate Change (DECC) have supported the GBP 3 milion development so far. In February 2016, a KPS led consortium was awarded a GBP 1 million InnovateUK Energy Catalyst grant towards the West Freugh development. Click here to read the article Windtech International recently published about the technology of KPS.