Published: 14 January 2016

14 January 2016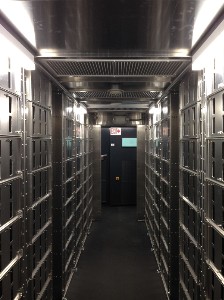 Sumitomo Corporation has announced they are to commence operation of their battery power storage system, Willey Battery Utility, LLC, that they have been constructing in Hamilton County, Ohio since April 2015.
With the rise in the percentage of electricity generated from renewable resources it is becoming increasingly important to balance and manage the difference between actual and forecasted electricity demand, and stabilize the output. Sumitomo has identified this need, and has piloted projects in Japan creating battery storage systems from reused batteries of electric vehicles. These programs were piloted on the islands of Yumeshima, Osaka, Koshiki and Kagoshima in 2013 and 2014, respectively.
Related Articles
EEW Special Pipe Constructions GmbH received the order from Nobelwind NV (Belgium) to manufacture 50 monopiles and one monopile foundation for the Substation fo

Sumitomo Corporation of Americas (SCOA) and Sumitomo Corporation (SC) (collectively Sumitomo) have acquired the remaining shares of the Mesquite Creek Wind Farm in Western Texas from co-developer BNB ...Windtech International - Windtech International is the worldwide information magazine for the wind energy industry. It provides the ideal forum for the promotion and explanation of new products, techniques and applications. This trusted and well-respected source of information is read regularly by an increasing readership

With the support of technical due diligence advice from GL Garrad Hassan, Sumitomo Corporation and its subsidiary Sumitomo Corporation Europe agreed to invest significant amount of equity in two Belgi ...Windtech International - Windtech International is the worldwide information magazine for the wind energy industry. It provides the ideal forum for the promotion and explanation of new products, techniques and applications. This trusted and well-respected source of information is read regularly by an increasing readership

Duke Energy Renewables and Sumitomo Corp. of America (the US subsidiary of Sumitomo Corp.) have announced the companies have finalised their 50-50 ownership arrangement for two Kansas wind farms and s ...Windtech International - Windtech International is the worldwide information magazine for the wind energy industry. It provides the ideal forum for the promotion and explanation of new products, techniques and applications. This trusted and well-respected source of information is read regularly by an increasing readership

Sumitomo Corp. of America (SCOA) will become a 50-50 equity partner in two large-scale wind farms Duke Energy Renewables is building in Kansas. SCOA is buying a 50 per cent stake in the 131MW Cimarron ...Windtech International - Windtech International is the worldwide information magazine for the wind energy industry. It provides the ideal forum for the promotion and explanation of new products, techniques and applications. This trusted and well-respected source of information is read regularly by an increasing readership