Published: 14 October 2022

14 October 2022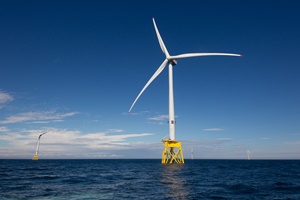 Half of the 114 turbines of the Seagreen offshore wind farm are now in place in the North Sea off the east coast of Scotland. The construction campaign at the Seagreen offshore wind farm achieved the landmark this week with the installation of the fifty-seventh Vestas V164-10.0 MW turbine, approximately twenty-seven kilometres of the coast of the county of Angus.
Since 2021, parts for the Seagreen turbines, including blades, nacelles, and the supporting towers have arrived from Vestas' base at Able Seaton Port in Hartlepool in the North-East of England. Seagreen first generated power to the UK national grid in
August
. When fully operational, the wind farm will be capable of generating around 5,000 GWh of renewable energy annually. Sixty-three of the jacket foundation substructures which support the turbines are now also in place. SSE Renewables continues to lead the development and construction of the Seagreen project and will operate Seagreen on completion for its expected 25-year lifetime.