Published: 25 October 2022

25 October 2022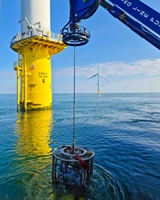 Rovco has been awarded a contract for the provision of offshore rock bag deployment and installation at the Galloper Offshore Wind Farm in the Outer Thames Estuary.
The project scope covers the application of an operator engineered solution for the installation of rock bags, which need to be placed at precise locations on and around the Cable Protection Systems (CPS) on the wind farm, located 27km off the Suffolk coast. Rovco will deploy the DPII subsea support vessel VOS Star, on charter from Vroon Offshore Services, during the project. The vessel will be pre-installed with survey equipment and Rovco's Seaeye Leopard WROV. The 353MW Galloper Offshore Wind Farm has a site area of 180km2 with wind turbine generators located in depths between 26.5m-39.5m (LAT).