Published: 12 January 2017

12 January 2017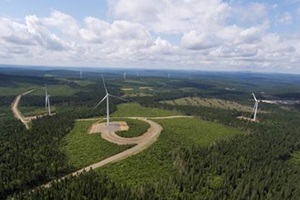 Invenergy Wind has announced the completion of construction and the official start of commercial operation of its Roncevaux wind farm in Québec, Canada.
Roncevaux is located in the Ruisseau-Ferguson unorganized territory in the MRC d'Avignon, Québec, Canada, approximately 500 kilometres east of Québec City. The 74.8MW project features 34 General Electric GE 2.2-107 wind turbines. Energy output will be purchased by Hydro-Québec Distribution through a 25-year power purchase agreement. The Roncevaux wind facility is situated close to Invenergy's existing Le Plateau, Le Plateau 2 and Des Moulins Phase 2 wind farms. Roncevaux is a collaboration between Invenergy, the Régie intermunicipale de l'énergie Gaspésie–Îles-de-la-Madeleine and Énergie Éolienne Bas-Saint-Laurent S.E.N.C.