Published: 17 March 2022

17 March 2022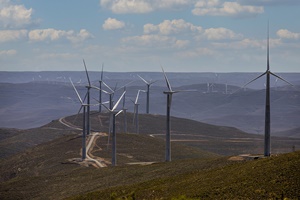 Red Rocket has announced commercial operations of its first wind farm in South Africa. Roggeveld wind farm is situated on the border of the Northern and Western Cape Province has an installed capacity of 147MW.
Roggeveld Wind Power was awarded preferred bidder status under Round 4 of South Africa's Renewable Energy Independent Power Producers' Procurement programme (REIPPPP). The Roggeveld wind farm's shareholding is held in majority by Red Rocket (51%). The other shareholders are H1 Holdings (23,25%), the Government Employees Pension Fund (23,25%) funded via the Public Investment Corporation (PIC), and the local communities through the Roggeveld Wind Power Trust (2,5%). Constructed at an estimated cost of R4,4billion, the 47 Nordex wind turbines at the Roggeveld Wind Farm will generate around 613 GWh per year.