Published: 28 October 2022

28 October 2022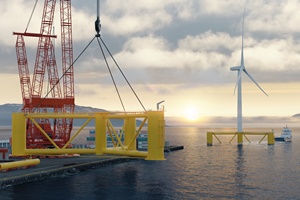 The Salamander floating offshore wind project, a joint venture between Simply Blue Group, Ørsted and Subsea7, has awarded the pre-FEED foundation design to Ocergy for its OCG-Wind foundation technology.
Last year, Salamander signed a memorandum of understanding (MoU) with Ocergy to evaluate its foundation design for the development in north east Scotland. Ocergy has developed OCG-Wind, a floating wind turbine foundation, to support very large wind turbines (>10MW), designed for development of large-scale wind farms. OCG-Wind is a semi-submersible platform designed to utilise the industrial performance of the hull fabrication and assembly through the maximisation of the local supply chain. The hull is made of three outside circular columns connected mechanically with trusses to a central column that supports the wind turbine.
Salamander is located 35km off Peterhead, Scotland. Salamander is intended to be progressed through the innovation track of Crown Estate Scotland's Innovation and Targeted Oil and Gas (INTOG) leasing round. The INTOG round will grant seabed leases through an auction process, which will be split into two pots – one for smaller scale innovation projects of less than 100 MW and one for larger projects linked to oil and gas infrastructure.