Published: 08 July 2015

08 July 2015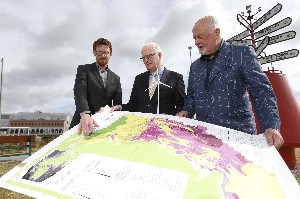 Oriel Windfarm Ltd. and Gaelectric Holdings plc have signed a Memorandum of Understanding to co-develop an offshore wind farm in the north Irish Sea.
The North Irish Sea Array (NISA) has the potential to produce up to 870MW of wind energy from the Irish Sea and will commence with the development of a 15MW demonstration project entailing an investment of € 80 million in a new research and development hub for offshore wind energy. Up to 150 jobs could be created during the construction of the project, with 30 new long term jobs for the North East Region. The North Irish Sea Array will be the first offshore renewable energy project to be developed in the Irish Sea since the construction of the Arklow Bank Wind Farm by GE Electricity in 2001. The 15MW NISA Demonstration Project will be a key first step towards the realisation of the much larger NISA development.