Published: 25 January 2019

25 January 2019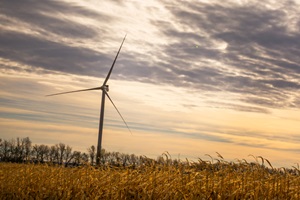 Natural Power has provided the finance-grade energy yield analysis (EYA) and associated reliance letter for Capital Power Corporation's 99MW New Frontier Wind Project in McHenry County, North Dakota, USA.
The New Frontier Wind facility, featuring 29 Vestas V126-3.45 wind turbines, was completed on schedule and below its original project cost estimate of approximately $182 million (US$145 million), and began commercial operation on December 21, 2018. On December 31, 2018 Capital Power received approximately $125 million (US$92 million) in net tax equity financing from J.P. Morgan in exchange for Class A interests of a subsidiary of the Company. Capital Power will operate New Frontier Wind under a 12-year fixed price contract with an investment grade U.S. financial institution covering 87% of the facility's output. Under the contract, Capital Power will swap the market revenue from a fixed volume of New Frontier Wind's generation for a fixed price payment over a 12-year term.