Published: 12 July 2017

12 July 2017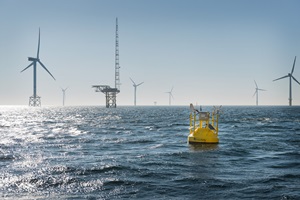 Titan Technologies Corporation has ordered two Fraunhofer IWES LiDAR measuring buoys for the surveying of the Zhangpu and Changle off-shore wind farms planned for off the coast of China's Fujian province. This will be the first time a floating LiDAR system will be used for offshore wind measurements in China.
The buoys will be used to measure the wind conditions in the designated locations so as to allow precise calculation of the wind farm's electricity yield. The projected wind farms are owned by the China Three Gorges Corporation (CTG). CTG received the contract to build two wind farms with a total capacity of 4GW. Titan Technologies Corporation has been engaged by CTG to perform the measurements. The company will also be completing the installation work, servicing, and data evaluation. Fraunhofer IWES researchers developed not only the design of the IWES LiDAR buoy but also the correction algorithm, which eliminates buoy movements from the measurements.