Published: 12 February 2018

12 February 2018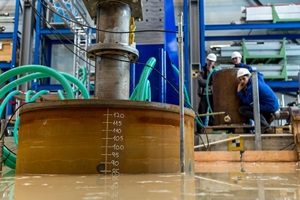 Within an hour, the steel cylinder of the bucket foundation had sunk down into the soil. This installation method for the foundations of offshore wind turbines is both fast and avoids pile driving noise, meaning it can also be employed for sites in regions subject to noise restrictions. The technique consists in the pumping of water out of sealed steel containers (buckets) in order to build up a negative pressure, which draws the structure into the seabed.
The challenging aspects of a bucket installation include the distribution of the pressure as well as ensuring that the bucket remains level. The bucket foundation included in the research represents a Bucket for a jacket support structure and measures 1.4 meters in diameter. In offshore applications, the same components can reach diameters of between 6 and 15 meters. Large-scale model tests such as these are performed by Fraunhofer researchers in the Test Center for Support Structures in the foundation test pit measuring 14 x 9 x 10 meters. The foundation test pit provides homogeneous testing conditions and a sandy model seabed representative of those typically found in the North Sea. Following successful installation, the researchers are now investigating the tensile behavior of suction buckets and the effects of extreme wave loads. Once the bucket has been in position for a few days, the tensile load tests will begin, which will be used to simulate the effects of extreme waves on the structure in the foundation test pit.