Published: 20 April 2023

20 April 2023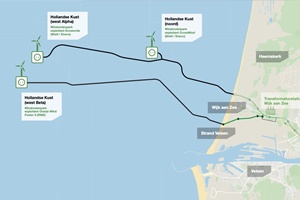 With over sixty kilometres of sea cable on board, the cable-laying vessel Isaac Newton will appear off the coast of Heemskerk/Wijk aan Zee this week.
With this cable section, the contractor combination Jan de Nul Group/LS Cable & System is realising the second connection for the offshore wind farm Hollandse Kust (west Alpha) to TenneT's 'socket at sea' 50 km off the coast of Egmond aan Zee. The first sea cable connection for this wind farm was completed earlier this year.
About five kilometres from the beach, Jan de Nul will bring the first part of the second cable for 'west Alpha' to the surface. This cable was already pulled under the dunes last year, after which the first kilometres were laid in the seabed. On board the Isaac Newton, the end (currently still capped) will be connected to the cable on board by means of a so-called sleeve connection.
Once the connection has been made, the cable is placed back on the seabed. At the same time, the work vessel Symphony from the Belgian contractor's fleet appears off the coast. On board is the unmanned cable-laying vehicle Swordfish. Once the Isaac Newton sets sail, the sea cable will slowly unwind from the large turntable on board. The Symphony sails behind it to control the Swordfish, which then lays the cable into the seabed.
The cable is installed up to the site where TenneT is having the offshore transformer platform for the 'west Alpha' wind farm built.