Published: 21 June 2017

21 June 2017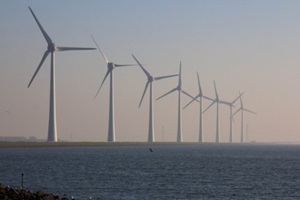 One of Europe's largest wind farm projects officially has been opened at Noordoostpolder in the Netherlands. The wind power project with a total output of 430MW consists of 86 wind turbines operated by different partners. The turbines have not only been installed just off the coast in the IJsselmeer (nearshore) but also on land along the coastal dike (onshore).
The innogy Zuidwester wind farm with 90MW of installed capacity is part of this wind power project. Built by turbine manufacturer ENERCON, each of the 12 turbines has an output of 7.5MW. In all, innogy has invested roughly €150 million in the Zuidwester wind farm.The twelve turbines of the Zuidwester wind farm replace 50 installations dating from the 1980s and 1990s. The new turbines have been operating at full capacity since the beginning of 2017.