Published: 10 October 2022

10 October 2022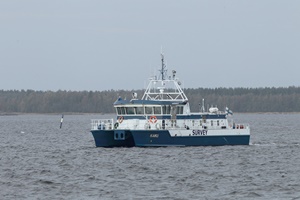 Ilmatar Offshore is starting a technical survey of the seabed over an area of 600 square kilometres north of Åland. The planned wind farm is intended to be connected to both Sweden and Finland and is projected to supply around 10 per cent of Finland's annual energy needs.
The technical surveys of the seabed started by Ilmatar Offshore are within the maritime areas north of Åland that, according to the Åland maritime spatial plan, have been proposed as suitable for offshore wind farms. In total, the area comprises about 600 square kilometres divided into two project areas which, using existing turbine technology, would allow for a wind farm with a capacity of 2.1 GW. The seabed surveys are funded by Ilmatar Offshore and conducted by the Finnish company Arctia, using their ship Kaiku. The preliminary work is projected to be completed by the start of 2023, whereupon the material gathered will be analysed and used as a basis for Ilmatar's environmental impact assessment.