Published: 26 September 2023

26 September 2023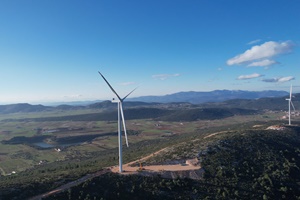 Iberdrola has commissioned the 37.8 MW Askio II wind farm in Greece. Located in the provinces of Kozani and Eordaia, in the West Macedonia region of Greece, it joins the 50.4MW Askio III project in full operation, which was completed in 2022.
Total investment in both projects was close to € 100 million. Askio II consists of nine Vestas V150 wind turbines, each with a 4.2 MW capacity, a hub height of 105 metres and a rotor diameter of 150 metres. In parallel, the company has also commissioned 18 MW Rokani wind farm located in the Viotia region, Central Greece. The facility is equipped with 3 Vestas V162 turbines of 6 MW unit capacity. Completion of the projects means that Iberdrola now has 421 MW of operational renewable energy capacity in Greece.