Published: 12 October 2021

12 October 2021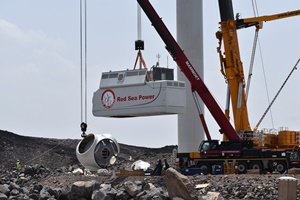 Mammoet has been contracted to install 17 wind turbines at Siemens Gamesa Renewable Energy's Goubet wind farm, in Djibouti.
The 59MW wind farm will be built on a 395-hectare site, near the Goubet cove in the Gulf of Tadjoura, Djibouti and will consist of 17 of SG132 (3.4MW) wind turbines. Mammoet Djibouti, the regional office for Mammoet's Horn of Africa and East Africa operations, has been contracted by SGRE to offload and assemble 17 wind turbines, these consisting of 68 towers sections, 51 blades, 17 nacelles, drive trains and hubs.