Published: 11 April 2018

11 April 2018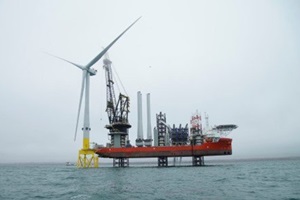 The turbine is the first of 11 to be deployed at the facility in Aberdeen Bay. In addition, Vattenfall confirmed that it is one of two turbines that have been enhanced with further internal power modes to generate more clean energy from the EOWDC.
The two turbines have each increased from 8.4MW to 8.8MW and together with the nine 8.4MW turbines, this increases the EOWDC's output to 93.2MW. MHI Vestas has specially designed the V164-8.4 MW and V164-8.8 MW turbines which all have a tip height of 191 metres. Each blade is 80m long.