Published: 30 December 2016

30 December 2016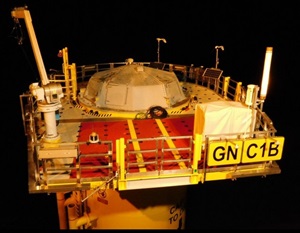 The first of fifty six turbine foundations at the 336MW Galloper Offshore Wind Farm has been installed. The wind farm is approximately 30 kilometers, off the coast of Suffolk. The foundations will provide a solid base for the 6MW Siemens wind turbines due to be installed from quarter two 2017.
GeoSea are managing the foundation installation and have sub contracted Sif Group and Smulders to produce the monopiles and transition pieces. The components are being loaded-out onto the GeoSea installation vessel, Innovation, in Rotterdam and Vlissingen with the installation phase planned to be complete by early summer next year. Each of the foundation will be around 85 metres in length and 7.5 metres in diameter, and weigh around up to 1200 tonne. Tideway, part of Deme group, is carrying out the scour protection works for the foundations. Galloper Offshore Wind Farm is an extension of the existing and fully operational Greater Gabbard Wind Farm and represents an expected investment potential of around GBP 1.5 billion.